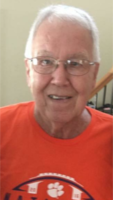 Marshall Merck
Marshall G. Merck, 82, of Mauldin, loving husband of the late Nancy Y. Merck, passed away Tuesday, October 3, 2017.
Mr. Merck, born in Six Mile, was the youngest of 6 siblings. He was the son of the late J. Roddie and Bertha Satterfield Merck. He retired from John D. Hollingsworth on Wheels after 40 years of service. He was of the Baptist faith. During his younger years, Mr. Merck enjoyed participating in sport, being awarded 9 college football scholarships. He was also a participant in the SC Shrine Bowl at the age of 18.
He is survived by 3 daughters, Lynn McCarter (Hollis), Lisa Wamack (Doug), and Jennifer Glover (Eric); one sister, Hattie Mae Nations and one brother, Marvin Merck; nine grandchildren and five great-grandchildren. In addition to his wife, he was predeceased by one sister, Geneva Hamilton and two brothers, Thomas and Ray Merck.
Funeral services will be 3pm Thursday at Fairview Presbyterian Church, Fountain Inn, SC. Burial will follow in the church cemetery. The family will receive friends one hour prior to the service.
In lieu of flowers, memorials may be made to Upside of Downs, 4580 Peach Orchard Road, Hephzibah, Ga. 30815, in honor of one of his great grandsons, Chase.