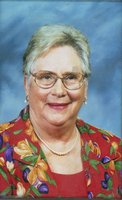 Claribel Putnam Jewell
Claribel Putnam Jewell, 86, widow of Eugene Marvin Jewell, went to be with the Lord, Monday, April 9, 2018.
Mrs. Jewell was born in Greenville County to the late John Gideon and Lucille Babb Putnam. She was a member of Pisgah United Methodist Church, a past Bowler and she loved to travel.
Surviving, are a daughter, Deborah Taylor; a brother: James Putnam; two sisters: Johnnie Hipps (Henry) and Betty Rhodes; five grandchildren: Brian Jewell, Stacy McCullough, Joseph Taylor, Coree Taylor and Marcus Taylor; and six great-grandchildren. She was predeceased by a son, Michael Jewell and a sister, Barbara Abercrombie.
Funeral Services will be 2pm Friday at Pisgah United Methodist Church. Burial will follow at Greenville Memorial Gardens. The family will receive friends one hour prior to the service.
The family is at the home of Johnnie and Henry Hipps, 112 Hipps Drive, Simpsonville, SC 29681.