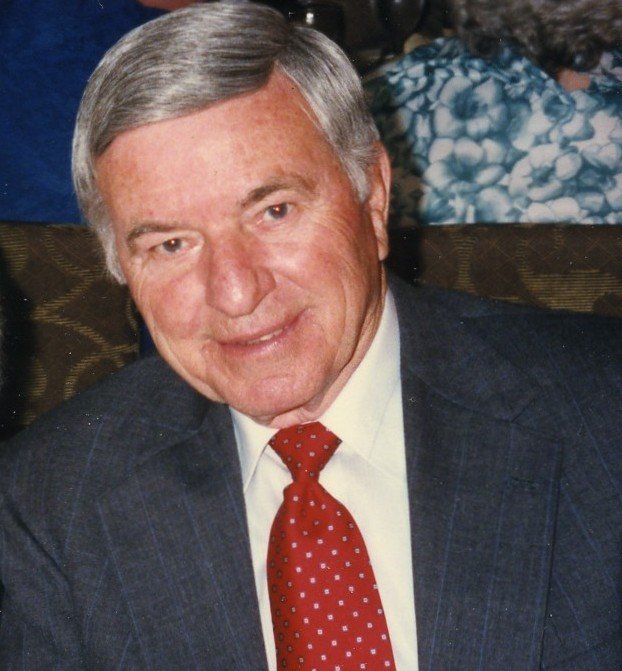 In Memory of
Paul Eugene Gault
Thursday, May 4, 2017
Obituary of Paul Gault
Former mayor of Fountain Inn, Paul Eugene Gault, Sr., 95, passed away on Thursday, May 4 at his home in Fountain Inn, SC.
Born and raised in Fountain Inn, he graduated from Fountain Inn High School, attended Spartanburg Junior College, and then became a business owner in Fountain Inn—first of a grocery store and then of Gault's Clothiers in partnership with his brother Sam. He served his community for 6 years as a town councilman and 19 years as mayor. Mr. Gault was also President of the Fountain Inn Lions Club, President of the Fountain Inn-Simpsonville Country Club (now known as Fox Run Country Club), Chairman of the Administrative Board at Trinity United Methodist Church, Commissioner of the Mauldin-Simpsonville-Fountain Inn Water District, and Chair of the Greenville Regional Area Transportation Commission. He was a long-time member of the Lions Club, the Rotary Club, the Masons and the Shriners. He was a lifetime member of Trinity United Methodist Church.
Besides contributing to his community in various capacities, Mr. Gault was a keen observer of people and liked to learn, work hard, and be productive. Over the years he climbed power poles, slaughtered cows and pigs with his father and brother for their grocery, and raised animals including ponies, cows, rabbits, and goats. He also taught himself to cuff pants as a clothing store owner, used construction skills learned from his father in numerous projects, gardened, grew fruit and nut trees, planted seedlings and sold Christmas trees. He loved being with people and especially enjoyed a good argument or discussion. The humorous give-and-take at Hardee's was a favorite morning activity for many years.
The son of the late Lester R. Gault and Susie Lockman Gault, he was predeceased by his wife of 62 years, Rachel Jones Gault. Surviving family members include a son and daughter-in-law, Paul E. Gault, Jr. and Jan Gault of Fountain Inn; a daughter, Carolyn G. Dallara of Vienna, VA; four grandchildren, Stephen Dallara, Dr. Irina Phillips (Dr. Mike), Emily Dallara, and Brenna Wiedman (Blake); and five great grandchildren. He was predeceased by five sisters, two brothers, and one great-grandson.
Mr. Gault and his family would like to express a special thank you to all the many wonderful caregivers who made Mr. Gault's last years more enjoyable—especially Peggy Hill, who brightened his life for over nine years, and Brenda Brown, who helped his wife as well as him. He greatly enjoyed knowing them and appreciated all of their assistance and companionship.
The family will receive friends at Fletcher Funeral Service, 1218 N. Main Street in Fountain Inn on Saturday, May 6 from 5:00 p.m. to 7:00 p.m. The funeral will be at Trinity United Methodist Church, 403 S. Weston St. in Fountain Inn on Sunday, May 7 at 2:00 p.m.
In lieu of flowers, the family requests donations to Cure Alzheimer's Fund, 34 Washington St., Suite 200, Wellesley Hills, MA 02481 or online at curealz.org.
About Us
At Fletcher Funeral and Cremation Services, we take pride in doing our absolute best to ensure your needs are met. We proudly serve Fountain Inn, South Carolina and all of our surrounding communities.