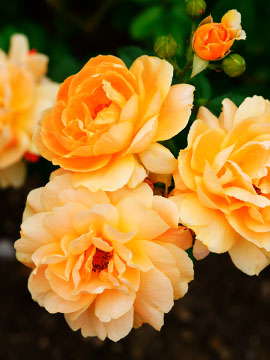 Obituary of Joyce Watson
Joyce Virginia Graydon Watson, 77, widow of Richard Peden Watson, went to be with the Lord on Wednesday, May 17, 2017.
Mrs. Watson was born in Fountain Inn to the late Murray Starling Graydon Sr. and Edna Lois Smith Graydon. She retired from Ingles and was a member of Beulah Baptist Church. She was an avid bird watcher and collector of Dept. 56 Christmas Villages. Joyce enjoyed gardening, playing scrabble and writing songs and poetry.
Surviving are a son, Ricky Watson and wife Carol; a daughter, Melanie Bussinger and husband Rick; three granddaughters, Julie Robinson and husband Jamie, Jacqueline Watson and fiancé Chris Edwards, and Kimberly Garrett and husband Chris; eleven great-grandchildren, Jacob Robinson, Jerika Robinson, Jenna Robinson, Landon Burns, Carly Burns, Emileigh Burns, Cayden Garrett, Katherine Garrett, Peden Garrett, Ethan Edwards and Mya Edwards; and her beloved poddle "Bubbles." She was predeceased by a brother, Murray S. Graydon Jr.; and a sister, Lois Anne Cothran.
Funeral services will be 2 pm Friday at Fletcher Funeral Service, officiated by Rev. Chris Bryan. Burial will be in Beulah Baptist Church cemetery. The family will receive friends at the funeral home for one hour prior to the service.