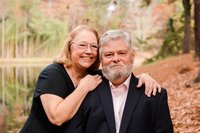 Durand Matthew Miller
Durand Matthew Miller, 67, husband of Susan Carol Leuenberger Miller, went to be with the Lord on Monday, December 31, 2018.
Mr. Miller was born in Toledo, OH to the late William Dudley Miller and Elizabeth Frashier Akorn Miller. He attended Simpsonville United Methodist Church and is a veteran of the U.S. Navy.
Surviving are a son, Nathan Miller and wife Tanya; a daughter, Gretchen Litaker and husband Scott; a sister, Denelle Miller; and four grandchildren, Ethan Litaker, Isaac Litaker, Eve Litaker, and Trevor Wellman. He was predeceased by a brother, Darrell Miller.
A Celebration of Durand's Life will be 11 a.m. Thursday at Fletcher Funeral Service, officiated by Dr. Mike Smith. Military Honors will be performed by the U.S. Naval Honor Guard. The family will receive friends immediately following the service.
Memorials may be made to Habitat for Humanity, P.O. Box 1206, Greenville, SC 29602; or to Wounded Warrior Project, P.O. Box 758517, Topeka, KS 66675-8517.