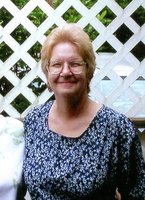 Pearl Brown
Nella "Pearl" Carroll Brown, 77, widow of Charlie Paul Brown Jr., went to be with the Lord on Wednesday, January 9, 2019.
Mrs. Brown was born in Greene County, TN to the late Luther "Jack" Estelle Carroll and Mollie Mae Russell. She enjoyed gardening, fishing, reading and being "Grandma" to her grandsons.
Surviving are two daughters, Paulette Brown, and Carla Jones (Dan Recker); five grandchildren, Tyler Kimbrell (Megan), Jordan Kimbrell (Caitlyn), Danny Recker (Cassandra), Christopher Recker, and Mauriana Recker.
She was predeceased by a son, Larry Carroll; and four sisters, Christine Dean Madge Dalton, Ruth White, and Ruby Pridemore,
The family will receive friends from 11-1pm Friday at Fletcher Funeral Service. Funeral services will be held 1pm Friday in the Chapel of Fletcher Funeral Service, officiated by Rev. Clayton Summerton. Burial will follow at Woodlawn Memorial Park.