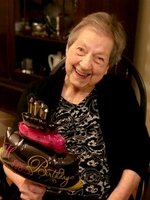 Ann McKillop Noel
Ann McKillop Noel, age 90, wife of Cleveland Noel Jr., went to her heavenly home on January 31, 2019.
Mrs. Noel was the daughter of the late Leo Dayton McKillop and Margaret Semmes McKillop. She was a joyful and loving wife, mother, and grandmother.
She is survived by her husband of 68 years, Cleveland; sons Roger Noel and his wife Mary Ann, Stephen Noel and his wife Jennifer; daughters Denise Born and her
husband Mark, and Carol McIntire and her husband Barney. She was also blessed to have 15 grandchildren and 26 great grandchildren.
A Celebration of Life service will be held at the Greenville Christian Fellowship at 10:30 on Saturday, February 9, 2019.