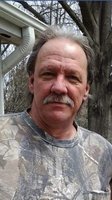 Christopher Dale Bryson
Christopher "Chris" Dale Bryson, 56, went to be with the Lord on Monday, March 11, 2019.
Chris was predeceased by his parents Naamon Bryson and Wallace and Mary Dickard Case; and infant daughter, Samantha Bryson
He was survived by his loving wife, Sandi Bryson; two sons, Josh Bryson (Marqutia), and Chris Bryson; three daughters, Ashley Mullinax (Scott), Brandi Ennis (Justin), and Chrissy Brooks (Jeremy); one brother, Carl Bryson; four sisters, Martha Ficklin, Beverly Cravy, Darlene Cook, and Rhonda Bigham; and twelve grandchildren.
Chris loved his family, the mountains and playing the guitar every chance he had.
Funeral services will be 1pm Wednesday at Fletcher Funeral Service. Family will receive friends from 12-1pm. Burial will follow in Constee Community Cemetery.