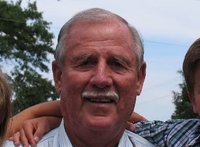 Jackie Andrew Peden Sr.
Jackie Andrew Peden Sr., 75, went to be with the Lord on Sunday March 31, 2019.
Mr. Peden was born in Fountain Inn to the late Jim Peden and Minnie Idelle Thompson Peden. He retired as the owner and operator of Fountain Inn Equipment Company and was a member of Fairview Presbyterian Church. He loved offshore fishing and Clemson football. Jackie was the de facto Peden historian.
Surviving are a son, Jim Peden; a daughter, Marcie Skelton and husband Shawn; their mother, Jill Peden; a sister, Dianne Perry and husband Buddy; and four grandchildren, Dorothy Peden, Elliot Peden, Grady Skelton and Chase Skelton. He was predeceased by a son, Drew Peden; a brother, Ronnie Peden; a daughter-in-law, Rebecca Peden; and a granddaughter, Rebecca Faith Peden.
Visitation will be 5-7 p.m. Tuesday at Fletcher Funeral Service.
Funeral services will be 1 p.m. Wednesday at Fairview Presbyterian Church. Burial will follow in the church cemetery.
Memorials may be made to Fairview Presbyterian Church, P.O. Box 1664, Fountain Inn, SC 29644.