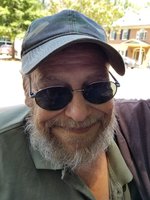 Andrew Jackson Horn, Sr.
Andrew Jackson Horn, Sr., 67 went to be with the Lord on Monday, April 1, 2019.
He was born in Logan, WV to the late Chester Wade Horn and Causby Starr Horn. He loved his grandbabies, fishing and getting out in his wheelchair.
Surviving are two sons, Andrew Horn Jr. (Tina) and Chester Horn; one daughter, Brenda Ann Horn York (James); two sisters, Martha Lombardo and Nacy Kemp; and eight grandchildren, Andrew Horn III, Nichals "Nicky" Horn, Nathaniel Horn, Evelyn Horn, Kathy Horn, Kenneth Tomblin, Jackie Runyon and Kaylee Horn.
He was predeceased by two brothers, Ricky Horn and Freeland Justice and sister, Lucinda Fletcher.