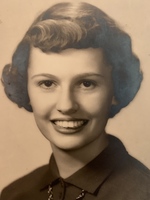 Barbara McBride Holmes
Barbara Fanning Holmes, 83, went to be with the Lord, Sunday, April 7, 2019.
Mrs. Holmes was born in Danville, IL to the late Robert Lee Fanning and Esther Brutlaug Fanning. She was a member of Christ the King Presbyterian Church. She loved music and loved to read, especially her Bible studies and was involved in prison ministries. Barbara was known by many as "Granny". Her family was very important to her.
Surviving, are two daughters, Laurie Morasse (Daniel) and Katherine McBride (Richard Wallich); six grandchildren, Bill McGraw (Lisa), Bobby McGraw, Jeremy McGraw (Alissa), Elisabeth Shirey (Peter), Christopher Toney, Matthew Toney and Carolyn Summers; six great-grandchildren, Parker , James, Isabella, Bryson, Jasmine and Taylor and several nieces and nephews. She was predeceased by two husbands, James McBride and Harold Holmes and a brother, Robert Fanning.
In lieu of flowers, please make donations to Comfort Care Hospice, 2078 Woodruff Road, Ste A, Greenville, SC 29607.
If anyone would like to send the family their condolences please do so on Fletcher Funeral Services website.