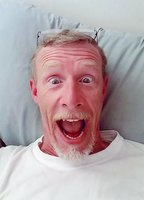 Tony Rudean Hall
Tony Rudean Hall, 53, fiancé of April Hughes Lewis, went to be with the Lord, September 14, 2019.
Mr. Hall was born in Conway, AR to the late Charlie Rudean "Dean" Hall and Louise Owenby Hall. He was employed by Rogers Group in Greer as a truck driver and in his spare time he was a "Jack of all Trades", a comedian, a singer and a carpenter. Tony was a proud member of the Deplorables and a proud veteran of the U.S. Army, where he served as a Drill Instructor.
Surviving are a son, Josh Hall; two sisters, Charlotte "Lori" Lanza and husband Mike, and Roxanne Weinel and husband Mark; two grandchildren, Everett Saunderson and Lewis Saunderson; three nephews, Chris Hastings and fiancé Vicky, Christian Hall, and Blake Osteen; two nieces, Gina Huff and husband Brian, and Hailey Hunnicutt and husband Jared; five great-nephews and one great-niece.