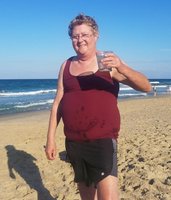 Tamara Kay Miller
Tamara Miller, 56, went to be with the Lord on Thursday, October 3, 2019.
Ms. Miller was born in Danbury, CT to Charles Thomas Miller and the late Sara Fitch Miller. She enjoyed arts and crafts, music and animals, especially cats. She was an avid Vikings and Cubs fan. Tamara was a loving, self-sacrificing spirit who lived to take care of others. She attended Greenville Unitarian Universalist Fellowship.
Surviving, in addition to her father, are two daughters, Sara Dodson-McGovern and Emily Dodson-McGovern; a brother, Charlie Miller; two nephews, Trevor Miller and Noel Kephart; and two special friends, Pam McCloud and Kelly Baber. She was predeceased by a sister Kimberly Miller.
A Celebration of Tamara's life will be held 3 pm Saturday, October 12, 2019 at the Cancer Survivor's Park amphitheater.