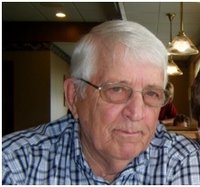 Ronald Telfer
Ronald Telfer, 83, of Newton, Iowa died on Thursday, November 21, 2019, peacefully at his son's home in Simpsonville, South Carolina. A funeral service will be held at 1:00 p.m., Monday, November 25, 2019, at Fletcher Funeral Home in Fountain Inn, South Carolina. Memorials may be sent to Ronald's family.
Ronald, the son of Walter and Myrna (Bradshaw) Telfer, was born on January 5, 1936 in rural Prairie City, Iowa. He lived in Prairie City, Colfax and Newton. Ronald served in the U.S. Army. Ronald was a farmer for many years and worked hard to be a great provider for his family. Ronald was an over-the-road truck driver, driving full time for over forty-five years and was a member of the Million Mile Club, earning this distinguished honor multiple times.
Ronald was united in marriage with Janet (Jan) Layton Waters in 1960 and later divorced. Ronald enjoyed being outside, working in his yard and gardening. He was a loving and caring husband, dad, grandpa, and brother.
Those left to honor Ronald's memory are his best friend Jan Waters of Cedar Rapids, Iowa; his sister Trula Telfer of Urbandale, Iowa; his children, Rodney Telfer of Cedar Rapids, Iowa; Todd (Robin) Telfer of Simpsonville, South Carolina; Terry Telfer of Cedar Rapids, Iowa; and his step-daughter, Tala (Brian) Nelson of Cedar Rapids, Iowa; grandchildren, Andrew, Jessica, Hannah, Crystal and Shannon; great-grandchildren, Landon, Sydney, Kelsey, Killian, Addy and Mason. He was preceeded in death by his parents; eight sisters, Edith Moore, Lois Stoner, Elsie Fatka, Irma Telfer, Vera Telfer, Marilyn Elrod, Myrna Schmitt, Grace Shuey, and Wilma Briles; and three brothers, Merwyn, Robert and Wilbur Telfer.