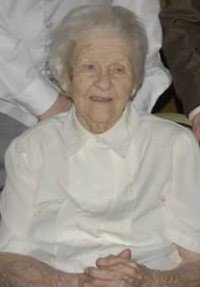 Obituary of Lillian Woods
Lillian Hendricks Woods, 97, widow of John William Woods Sr., went to be with the Lord on Sunday, July 23, 2017.
Mrs. Woods was born in Gray Court to the late Mason Lomax Hendricks and Dora Gray Hendricks. She was a member of Beulah Baptist Church. She was truly the matriarch of the family, loving and nurturing every generation.
Surviving are a son, John Woods Jr.; a daughter, Mariann Burns; two sisters, Laller Smith and Daisy Nelson; four grandchildren, Anthony Burns and wife Marilyn, Candace McCraw and husband Alan, Andy Burns and wife Allison, and Jeremy Woods and wife Jessica; and four great-grandchildren, Courtney Johnson and husband Devin, Connor McCraw and wife Dusti, Logan McCraw, and Allie Burns. She was predeceased by two brothers, George Woods and L.D. Woods; two sisters, Lucy Jamison and Lily Jones; and a son-in-law, Jim Burns.
Funeral services will be 1 p.m. Tuesday at Beulah Baptist Church, officiated by Rev. Chris Bryan. Burial will follow in the church cemetery. The family will receive friends in the church social hall immediately following the service.
Memorials may be made to Beulah Baptist Church, 1762 Greenpond Road, Fountain Inn, SC 29644.